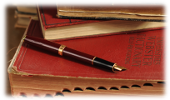 What's in a Story?
Do you have a story you need told but cannot find the right words? Is there a special occasion coming up that you would like recorded?
Whether it is an engagement, an anniversary, a graduation or retirement, I can assist you.
Do you have a special piece of jewellery or photograph? A shadow box filled with memories? A family heirloom? Your home? Are you writing a memoir, a family history or preparing a scrapbook for future generations? I will write a unique story tailored to you.
Other services available:
Editing
Proofreading
Research
Transcribing